1Spatial and Esri Platforms – a collaborative partnership 1Spatial and Esri Platforms – a collaborative partnership with a common goal
The 1Spatial Platform is a complete set of Location Master Data Management (LMDM) software components, which combines servers, portals, dashboards, SDKs, APIs, data connectors, business-focused applications and our patented 1Integrate rules engine.
The platform helps ensure your master data is current, complete, consistent and coordinated – and that you can be confident it will remain that way as it evolves. It allows you to master your data in any device, anywhere, anytime. The platform can be deployed as SaaS in the cloud, on-premise, or as a hybrid of both.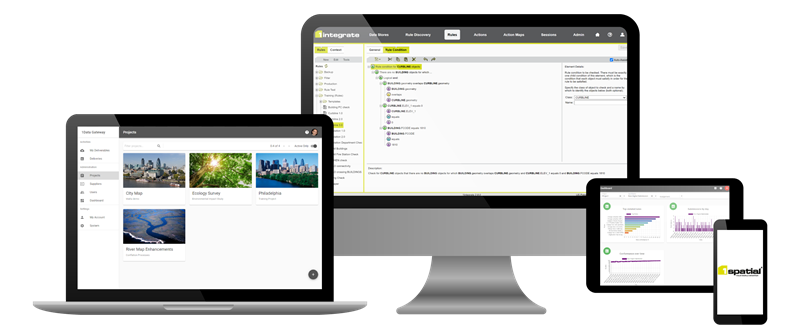 At 1Spatial, we want our customers to get the maximum value possible from their data. We use our people and industry knowledge to create targeted innovative solutions to make this happen. We focus on helping everyone master their data.
One of the most popular platforms for GIS users is from Esri. We have a great working relationship with Esri, and we often find ourselves working with Esri customers and partners to deliver solutions. A consequence of this is that our product managers are constantly working on our product roadmaps to make sure we have good integration points with the ArcGIS platform, so customers can get exactly what they need. This really is a constant task, as technology improvements grow quickly. Let's take some of our updates in the last month on the 1Spatial Platform for example the latest feature updates that relate to our flexible integration with the popular ArcGIS platform.
1Data Gateway - API for accessing data quality, validation and usage statistics through external dashboarding tools such as Esri ArcGIS Dashboards
1Integrate – using Esri APIs to access data such as Esri ArcGIS Feature Services (and Map Services) or directly from Esri Enterprise or File Geodatabases or other file formats.
LMAP – data access using Esri ArcGIS Feature Services API and authentication with ArcGIS Online/Portal
As you can see, the key word in the list above is API. This is how you build high quality software solutions. All the 1Spatial Platform components are accessible not only via an intuitive web user interface but also via RESTful APIs. This is also how many other great software companies operate. Not only does this allow 1Spatial components to integrate seamlessly with other 1Spatial Platform components, but also other third-party software components as part of a wider deployment, whether locally or via the cloud. This offers great flexibility in creating solutions that are built from systems of systems, where our platform components can work alongside other organisations.

Our integration with Esri also extends into our Business Applications. We were awarded the Esri Utility Network Specialty designation in Feb 2021, and further recognised at the Esri Partner Conference in March winning the Web GIS Transformation Award for evolving customers and solutions to the Web GIS pattern with SaaS, in particular for our work on our business solution, 1Water.
1Water is our new solution built on the ArcGIS platform, extending the ArcGIS Utility Network (UN). The client applications (web, desktop and mobile) are implemented using ArcGIS SDKs. We have also made sure that other tools, gravitating around the ArcGIS platform (e.g. Dashboards, Experience Builder or Survey 123) can also be used to extend our core network solution.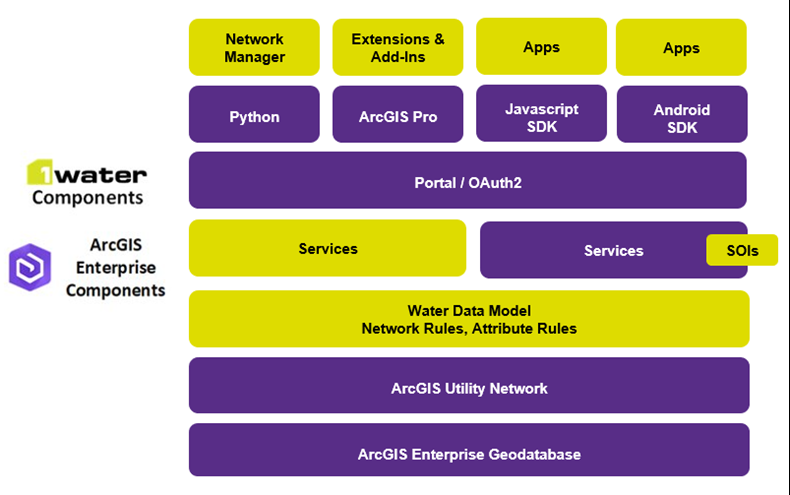 Web maps from ArcGIS Enterprise are utilised as the basic block of a user profile for Web and Mobile Apps. As soon as the user is authenticated, its profile is selected and the associated portal web map is loaded. All users are authenticated using portal OAuth2. All assets are managed within an ArcGIS Geodatabase (utilizing the UN extension). ArcGIS Pro is used as the desktop platform of 1Water, and as already mentioned, our mobile applications that make up the 1Water solution are built using ArcGIS Runtime SDK for Android.
There are plenty more exciting features to come for all our products, and I've highlighted some of the recent enhancements that apply to the ArcGIS Platform integration. If you would like to try them out, or learn more about any of the software components that make up our 1Spatial Platform, simply get in touch with us, or learn more at the various product pages:
Contact Us
For more information about the 1Spatial Platform or for help getting your data into shape and keeping it that way.
Contact Us