 Network data underpins your business. It is your most important asset. We can help you confidently migrate your ArcGIS® geometric network data, to the new ArcGIS Utility Network data model, Esri's next generation spatial information system for electric, gas, telecommunication, wastewater and water networks.
It's all in the approach
Review your readiness to migrate using a proven process. A detailed 'health check' of your current network data will identify any limitations and we will help you decide on the extent of the data model

.
Assess your network data in terms of its quality, connectivity

,

 and completeness, as well as assessing existing and future integrations between your network data and other business systems

.

Plan and prioritise the migration and data quality management so that it is iteratively migrated to ArcGIS Utility Network

, and

 to

 ensure that you

 achieve your data quality outcomes

.

Undertake 

the refactoring of workflows and business processes around the new model and a new set of tools

.
Working collaboratively to design your ArcGIS Utility Network configuration, our agile approach to project management will quickly prove the value of the ArcGIS Utility Network. We iteratively deliver working outputs that can be used for validating workflows, preparing for business change, and showcasing new tools to your organisation.
We will develop a Migration Strategy and Roadmap to guide you in the planning of a full migration. This will give your organisation the confidence to embark on your full ArcGIS Utility Network migration.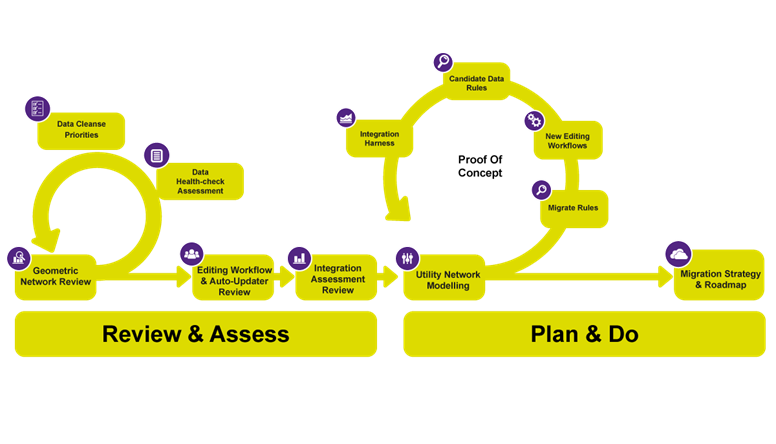 Why 1Spatial?
Our experienced consultants and engineers, together with selected partners, have the full range of software
tools, expertise, and substantial experience in data modelling, data mapping and data quality assurance. We develop specific data quality toolsets that not only help you migrate your data to Esri's new ArcGIS Utility Network but also ensure persistent quality levels for years to come. We also exploit the supplier trust and technical competence that comes from our Silver level Esri partner accreditation.
Want to find out more?
Let us take you through how our approach could save you a huge amount of time and effort and guarantee your smooth migration to ArcGIS Utility Network.