Australia Tour - The Boy Band Edition Sun, sea, sand, and seven seminars.
Charley Glynn, Senior Project Manager at 1Spatial recently took a trip over to Australia to meet the team and attend 7 seminars. Here is a summary of his trip:  
I am writing this as I sit in the departure lounge at Sydney airport waiting for my flight home, dunking Tim Tams into my flat white. I have just spent two weeks travelling around Australia, helping to deliver seven 1Spatial breakfast seminars and attending the Smart Data, Smart Cities & 3DGeoInfo conference. These are my reflections as they're still fresh in my mind.
The what: A 1Spatial breakfast seminar tour across 7 locations, followed by a visit to the Smart Data, Smart Cities & 3DGeoInfo conference where we were sponsors, exhibitors and presenters.
The where: Our breakfast seminar tour saw us visit 7 cities, in this order: Perth, Adelaide, Canberra, Hobart, Melbourne, Brisbane and Sydney. The conference was held at the University of New South Wales in Sydney.
The who: I was part of the self-proclaimed 'boyband' alongside my UK colleague Jonathan Shears plus Andrej Mocicka and Andrew Bashfield from the 1Spatial Australia team. We were also joined by several colleagues as we passed through their cities, including Michael Studdert who joined us for the conference.
The why: For many, this was their first face-to-face conference since lockdown, and it was a great opportunity for us to re-engage with current, and new customers, in-person. The goal for us was to spread awareness of our core 1Spatial products and solutions and start some new conversations.
Interactions with geospatial data started on the plane with the flight map – very useful for checking the flight status, especially after a long nap! 
Our first destination was Perth where we had a weekend to sort out our sleep patterns, adjust to any jet lag, and get ready for the fortnight ahead. I was greeted with great weather and was able to enjoy the beautiful beaches north of the city. Monday rolled around and it was time to start our breakfast seminars...
The Breakfast Seminars 
Each event required an early start;  – we had to set up the room before people arrived at 7am. Our set up time significantly improved as the week went on as we became dab hands at erecting pull-up banners and laying out name badges. Our first venue was perfectly situated with a view over the Swan River and was a great place to kick things off. We delivered our presentations and demos as the delegates tucked into their breakfasts; – we encouraged the clinking of cutlery on crockery, and it created a nice, informal atmosphere.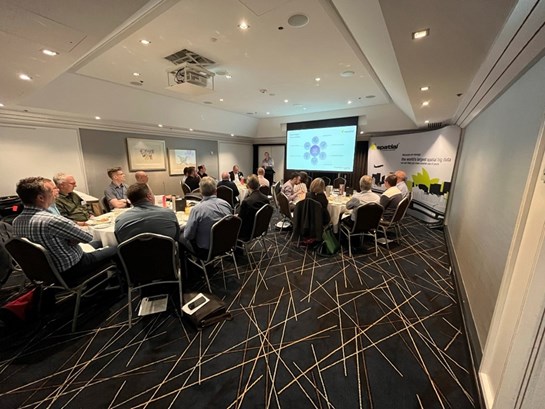 Andrej got proceedings underway with introductions before Jonathan described the importance of solid data
foundations and the increasing importance of embracing big data in order to achieve business outcomes. Jonathan then handed over to me and I gave an overview of our core products, their capabilities and how they're underpinning our solutions, adding value across the world. Andrew then gave a live demo of the GDV Hub, a cloud-hosted solution that has been designed specifically for the Australian market.
The seminars were rounded off with an open-floor discussion plus we ensured to have time to network which gave us the opportunity to talk in more detail about the real data challenges people are facing. 
In the first week, we delivered 5 seminars in 5 cities; Perth, Adelaide, Canberra, Hobart and Melbourne. We were grateful for the weekend! On Monday, it was time to go again as we headed to Brisbane, followed by Sydney.
We had a great mix of people attend the seminars; lots of senior GIS specialists, consultants and analysts, plus managers, directors, CEO's, program leaders and team leaders. There were great discussions at each event around the challenges of working with geospatial data, some technical, but others also political and behavioural. There was plenty of interest in our core 1Spatial products such as 1Integrate and 1Data Gateway, plus lots of interest in the GDV Hub for validating and correcting data from multiple sources.
It was fantastic to meet so many new people who work with geospatial data on a daily basis and we look forward to continuing many of the conversations we started. The average overall event rating was 4.1 out of 5 and we have some great feedback to make these events even better next time. 
We spent the remainder of the week at the Smart Data, Smart Cities & 3DGeoInfo conference. We were sponsoring, exhibiting and presenting and it was a great opportunity to see some of the latest innovations in Smart Cities and Digital Twins. The big take away for me was that, with data being all important, the ability to measure and maintain its quality is imperative. As we increasingly rely on our core data assets to underpin decision-making, its so important that we can trust in it. We need solid data foundations!
A Cartographer's Delight 
Naturally, as a cartographer-at-heart, I took lots of pictures of maps whilst discovering each city on foot. I'm always fascinated by the variety of map styles on wayfinding signs, location maps, and local information booklets.
I also revelled in the Australian geography and wildlife; the fantastic trees, flowers and birds everywhere, the starfish in Hobart docks, the megabats in Canberra's Commonwealth Park, the lizards in Brisbane's botanic gardens and the kookaburra I photographed at Coogee beach, Sydney.
This was a whirlwind tour.  Meeting many of my Australian colleagues was also a fantastic bonus to this trip, and these connections will help us strengthen our operations in both territories. 
Written by Charley Glynn, Senior Project Manager, 1Spatial