 Roll up, roll up! We invite you to register for free.
Join us at the FME World Fair 2021, open to those considering FME, as well as existing FME users.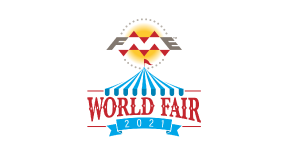 Although the essence of the World Tour is at the heart of the World Fair, this event is nothing like you've seen before from Safe. Going fully virtual over the course of nine days for the first time, you will be able to connect and engage with thousands of FME users, experts, and partners from across the globe to inspire, enchant, unite, and motivate others with what they have accomplished using FME.
During the event, you'll discover the best tips & tricks, newest updates, and innovative ways customers are using FME. The ability to network and interact with FME users, experts, and partners from around the world will be a delightful highlight, with many creative and fun ways for attendees to connect and participate.
1Spatial Australia are hosting four online events as part of the World Fair. Our event over the four days will focus on customer experiences with FME. We will take a look at some of the new 2021 features and focus on providing you with some special skills to help you tame your data.
Join us on 12th May between 12.30 - 2pm AEST: Data Makes the Ferris Wheel Go Round with 1Spatial
Step right up, step right up! Settle in and get comfortable as we take you on a journey through the land of data dreams. During this session you will hear real user stories and how our customers overcame their data challenges with the help of FME. Circus dreams really do come true at our FME World Fair!
Register now
Agenda subject to change: 
1Spatial Intro: Andrej Mocicka - 1Spatial | Welcome to the 1Spatial hosted FME World Fair event, a showcase of our innovative customers! 5min

Safe Software update with Ardi Bakhitiary, 5min

Customer Showcase: Sheree Scott - Tweed Shire Council | The benefits of FME Server, 20min

Customer Showcase: Anthony Draga - DELWP | FME makes spatial data accessible, 20min

Customer Showcase: Cristhiane Ramos -

Parks Victoria | GIS process for assessing fire impacted PV assets, 20min 

Wrap up: Andrej Mocicka - 1Spatial

| Thanks, and post-event resources, 5min
Be sure to opt-in to 1Spatial Australia when registering, to be in the draw to win a Google Chromecast and plenty more cool prizes!!! registration is now open!