 Pipe Inference
Create a connected pipe network
Understanding and documenting your pipe network can be a time intensive, field-based task. Our pipe inference solution unlocks valuable insight into your network using rules-based data discovery, powered by 1Integrate. The process of inferring missing data delivers a more complete, accurate view of your network, whilst removing the time intensive manual steps you may be used to.
Key Benefits
When data is incomplete, it often results in operations taking much longer than planned as we make assumptions about the data we know is missing. Inferring your missing data will increase the completeness of your network, allowing you to better understand the total set of assets that you maintain and manage. Having confidence in a complete set of network data allows you to make better operational decisions and plan smarter for operations or incidents that will affect the network and your customers.
Pipe network data can be both missing, incomplete and inaccurate, causing increasing risk to worker safety and impacting customer satisfaction. Inferring your data using our intelligent, rules-based solution allows you to view existing data and define what is missing. Automated actions based on pipe network rules can be taken to correct existing data and create new data you know is missing. The rules allow you to get a confidence score against each data set. With more reliable, accurate data, you can plan more efficiently, keep costs down and reduce the impact and disruption to customers and workers.
Pipe networks span large geographic areas and are often underground or difficult to access. Collecting data can be expensive, labour intensive and prone to error. Missing or incorrect data can increase costs associated with excavations and infrastructure damage, leading to unnecessary incidents that impact worker safety. Our solution improves the completeness of your existing data by inferring missing data and creating a complete network of your pipes. Taking an automated approach helps to improve operational efficiencies, gives you confidence in your data, and reduces the time and costs associated with inaccurate planning and unnecessary fines.
Your existing dataset combined with our tools and expertise, will create a digital twin of your pipe network which is underpinned by high quality and complete data. Improving the quality of your data will help simplify operational tasks and increase productivity. Having access to a digital twin of your network will allow you to move to a predictive or preventative approach to network management.
The Challenge
Your utility networks have been developed over many years and have expanded as a result of many acquisitions. In addition to changing ownership, technology has changed over time meaning accurate data on the location or depth of the network is not always available or reliable. To add to the challenge, utility networks span large geographic areas and are often underground or difficult to access, and retrospectively collecting this information is difficult and expensive.
Due to obvious health and safety implications, regulators now demand quality data from you. With data sharing being encouraged, the quality of this data now impacts the industry as a whole, not just one organisation.
The wastewater industry provides a good example of this challenge. In 2011 a change in legal ownership meant wastewater companies acquired responsibility for the management and maintenance of drains and sewers overnight. However, they were provided very little information on the location of this network. It was estimated that for the average company, the data completeness for the additional network was below 10% and this data was often contained in paper-based drawings. 
Northumbrian Water Group estimated that using traditional surveying techniques, it would take an estimated 15 years and £30 million to map the transferred network. It quickly became apparent, that NWG needed to find another way to gather this data.
The Solution
Our pipe inference solution offers a cost-effective and accurate method of gaining valued insight into the network through rules-based data discovery, powered by 1Integrate. The solution uses available datasets (either licensed and owned by you, or freely available) combined with expert knowledge to define what the missing data should look like. A confidence factor will then be assigned to the new data depending on the combination of rules and data used to create this data point. As more information is fed into the model, the accuracy increases.
This enables your field and office workers to make decisions confidently and accurately, from a trusted data source. Trust in the data will also improve the quality and efficiency of daily operations.
We are able to configure the solution to meet your specific requirements. Our approach is to include your own subject matter experts in the design process. This enables the experts to take ownership of the solution and helps with the adoption of the solution across the organisation.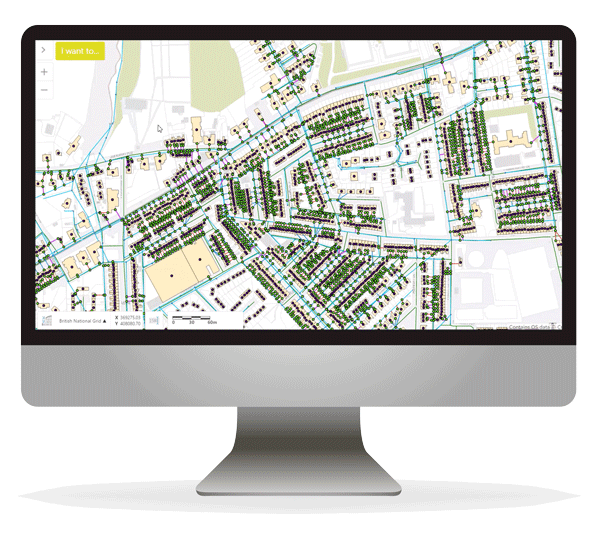 The Result
Only with complete and high-quality data are you able to move to a predictive or preventative approach to network management. There will be circumstances where you will need to react. This solution allows you to do so quickly and in-turn provide a better level of customer service.
Operational practices will be easier to plan and execute and your customers are likely to notice fewer disruptions. We understand that this is important for you, as you are heavily regulated with incentives and penalties linked to performance.
Our solution clearly identifies to the user the level of confidence in the data, whether inside your organisation or a third party. This allows users to make informed decisions free from the assumption that all data is correct, and shares the same level of accuracy.
Northumbrian Water Group has proven that complete data increases customer service and reduces the cost and timescales of operational practices: Case Study – Northumbrian Water. 
Case Study
Northumbrian saves £8.75 million with digital asset management and mapping
"We're really proud of this project. It's been a great success. We feel that we're probably further ahead than anybody else in the water industry in accurately positioning our transferred drains and sewers."
Operational Solutions Manager | Northumbrian Water