On-demand Webinars
Providing an Efficient and Effective Gateway to Data Governance
We welcome you to review our recorded session from the recent GIS in the Rockies 2020 event. This presentation was delivered by Brian Soliday and Melissa Ubaldo from 1Spatial.
Webinar Series: Using A Rules-Based-Approach to Manage Large Real Estate Holding Data
This four-part webinar series will focus on many of the implementations of 1Spatial's Facility Management Data Quality & Integration Solution.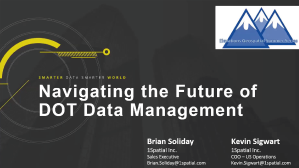 Navigating the Future of DOT Data Management
This webinar will look at how numerous State DOT's are utilizing 1Spatial's 1Integrate rules engine for automated data management and improvement.