Innovation does the Maths Innovation does the Maths, written by Martin Shaw, Senior Account Manager, 1Spatial.
| | | | |
| --- | --- | --- | --- |
| 5 Days      | 3000 Attendees                | 700 Organisations | 10 Design sprints         |
| 3 Data Hacks               | 3 Celebrity speakers | 1 Power of Zed          | 600 Teds |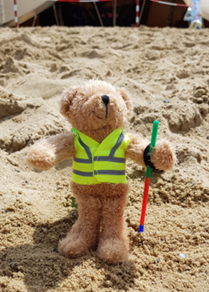 1Spatial were again delighted to sponsor the Northumbrian Water Group Innovation Festival 2019 which took place from 8-12 July at Newcastle racecourse, with the aim of finding innovative solutions to some of the biggest challenges faced by business, the environment and society.
Luckily for me this was my third festival, the biggest yet and a zero -waste event. Single use plastic bottles were banned with visitors encouraged to fill their own drinking bottles, with delicious Northumbrian Water freely available across the site. The week provided a great opportunity to catch up with old friends and make many new ones too.
Amongst the big challenges faced were the impact of 5G, Climate change and Digital Twins with some good ideas being developed during the week. I was particularly impressed by Dragonfly, a real-time water monitoring system, an output from our friends in the CGI sprint, which can provide additional benefits to the environment and rural communities.
For my part, I was pleased to participate in the sprint sponsored by Wavin and the Institute of Civil Engineers expertly led by Steena Nasapen-Watson, sustainable sewerage manager at Northumbrian Water. Here we looked at 'Better ways of managing surface water – and plan more effectively'. Some interesting ideas were developed during the week and we expect to see some real improvement in this area.
The Power of Zed
The proper clever people at 1Spatial spent the week working hard (okay, there was some play too) looking at whether it was possible to infer depth of underground assets in our Depth Discovery Data Hack where Paddy Garrett, making another trip north from Essex & Suffolk Water (not just to enjoy the famous northern hospitality) did a great job leading the sprint.
Utilities recognise that improving records and knowledge of asset depth (z values) will improve safety, planning and efficiency. As John Douglas NWG Network Analysis Manager said; "every one of our ODI's and performance commitments would benefit from depth" and went on to say "it could reduce interruptions to supply by minutes, hours or even days and would help pinpoint leakage" but in inferring the z value he identified that the confidence factor would be key.
The 1Spatial development team were joined by NWG colleagues, SME's and student hackers with insight provided by industry experts such as Neil Brammall CEO Utility Survey Exchange and Alan Gould, Development Manager at Openreach to answer the questions;
Can we build a model to infer the Z value with an associated confidence level?
Can we design a process to collect true value of depth to inform the model?
The hack proved that 1Spatial can use existing data deployed within our 1Integrate rules engine to infer a model of depth with an associated confidence factor. What was now needed was a true depth measurement, to help inform the model, and better use of the opportunities to capture depth by engineers in the field.
We are pleased to announce the birth of Zed, born at Newcastle racecourse on 10th July 2019. This cleverly designed colour coded z value stick will be used by engineers whenever there is an opportunity to capture data in the field. Mobile applications are already in use to capture field asset information and by using the Zed stick, the z value can easily be added and returned to the model to continuously increase accuracy and confidence levels.
This innovative solution has shown that by combining the 1Spatial rules-based model, with real world data provided by the Zed stick, many business benefits can be achieved i.e:
Efficiency in job planning (costs and personnel)
Reduced delays due to incorrect equipment
More likely to locate non-metallic pipes and reduction in dry digs
Increase ROI on existing programmes such as leakage and burst prevention
Provide significant H&S benefits across the utility industry
It is estimated that The Power of Zed could save NWG around £1000 per week on delays due to incorrect equipment and £500 per week on job efficiency in digs for non-metallic pipes. In total it is thought that savings in the region of £390,000 could be made over a 3-year period.
2019 was another fantastic week. I would of course like to thank Nigel Watson and his team for their hospitality, energy and foresight in providing such a super environment, where work and play  come together to create some fantastic ideas. In a week.
One last number for you. 600*
600 – the number of 1streetworks teddy bears handed out from the 1Spatial stand in the exhibition village along with 120 water bottles. Everyone wants a teddy, right?
If you would like to know more about the Power of Zed or how to get more value from your data, including inference and automation, or even if you would just like your very own 1Streetworks teddy bear, please contact; utilities@1spatial.com.