Take a break with 1Spatial's Adrian Porter Tell us about yourself?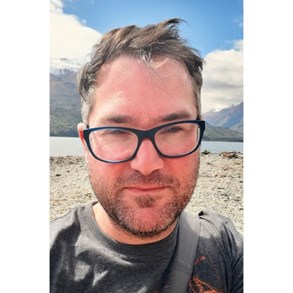 I am currently a Managing Consultant for 1Spatial, within its Consultancy team, based in the UK. I joined the 1Spatial team in 2014 with the merger of STAR-APIC, where I worked since 2001. I spent a few years Australia, with 1Spatial Australia, leading the Consultancy team. I returned back to the UK and 1Spatial becoming part of the illustrious 1Spatial boomerang club.
I'm proud to have achieved and continue to maintain FME Certified Professional, FME Certified Trainer and FME Server Professional status.
Fun fact about you?
I am a fan of silent cinema – and it's never silent, and not always in black and white.
What do you enjoy most about working at 1Spatial?
Has to be the people, such a great team.
What's your favourite transformer and why?
That would have to be the FeatureReader, it's probably the one transformer that most dramatically changed the way I work with FME. It's also one of those transformers that just does a lot more that its intended for. Top place in the batman utility belt.
What's the most interesting data challenge you've tackled?
For me a project a couple of years ago where I had a to create a process to export data from Oracle to Excel. It had to be completely dynamic and configuration driven. It brought together many interesting facets of FME, dynamic reading and writing, schema mapping, data validation, writer templates and integration with 1Spatial's own software to form a larger workflow.

The next most interesting thing was that bit of work I did this morning but that's for another break time…

How long have you been working with FME?
The first version of FME I installed was FME 2000, with workbench just a glint in Don and Dales eyes.
What do you love about FME?
The route from beginner to productivity can be so quick and rewarding. Especially during training and that moment when it clicks with people, seeing what they can do, the potential and the 'I want to get back to my desk and try this' moment. An incredibly satisfying experience.
If you were given an airline ticket to go anywhere in the world where would you go and why?
I'd go back to New Zealand, and at a push South Island. I lost a very nice woolly hat there last time. Also helps being the most beautiful place in the world too.

Find out more about FME and how we can help you.