 Infrastructure: Plan, Design, Construction and Operations
Infrastructure underpins the economy. The government wants to deliver an infrastructure revolution: a radical improvement in the quality of the UK's infrastructure to help level up the country, strengthen the Union, and put the UK on the path to net zero emissions by 2050 – set out in the National Infrastructure Strategy.1 They key infrastructure sectors that the National Infrastructure Commission focus on are; Transport, Energy, Digital, Water, Waste and Sewage, and Flood Management.
Infrastructure creates and evolves built environments. The built environment is the place where infrastructure is planned, designed, built, and operated – data is at the core of this process.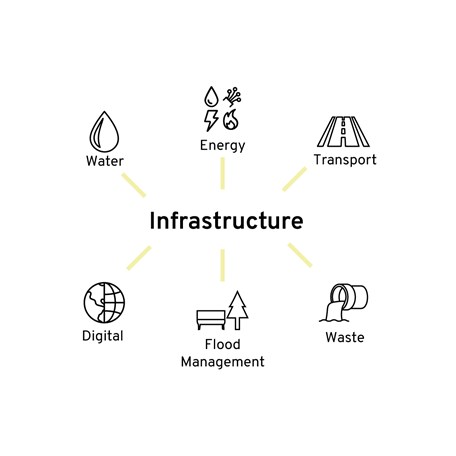 Reduce project risk with accurate geospatial data
Not all data is good data and if it is not used or managed correctly it can lead to poor outcomes with potentially catastrophic consequences, so can infrastructure projects afford not to quantify the accuracy and validity of engineering data?
Design: Accurate spatial and non-spatial information is critical for effective design of all built environments, which need to consider environmental impacts, underground asset locations and land ownership.
Construction: Data that is inaccurate, incomplete, inaccessible, inconsistent or untimely is estimated to have cost the global construction industry US$1.8 trillion in 2020. For all construction phases, accurate data will reduce completion times, reduce overhead costs and shorten disruption to services. Highly accurate GIS, CAD and Model data allows a large portion of construction to take place digitally, to validate components that need to be brought together onsite.
Maintenance: Digital Twins allows asset owners to create a clear and detailed understanding of assets across a network or enterprise. Accurate and validated data enables better maintenance planning, supports predictive maintenance on wear and tear and drives focused, early intervention asset maintenance. Road maintenance is an example where asset owners can bring together information such as road surface type, road surface shelf-life and traffic flow information to understand which parts need resurfacing before significant deterioration takes place.
Combining data from different sources
With such a richness of engineering and environmental data sitting behind all infrastructure construction projects, construction companies are effectively also data companies. In many instances, the value of the digital data exceeds the value of the physical assets, and so, the need to have an accurate, validated record of the assets is crucial.
Major infrastructure projects have complex data supply chains, that don't always adhere to standards set out. It is fundamental that all data supplied is validated against the standards, in an automated, scalable way, to increase the speeds and confidence in data delivery.
This can be a quick and efficient way of understanding a project from different perspectives. Sometimes, it's an essential part of managing complex projects, but it always carries risks.
Data can be of different ages, uncertain accuracy and may not be fit for purpose. It might conform to different standards or (even from within your own organisation) be held in different formats.
We work with customers from different sectors to help them cost-effectively manage their spatial and non-spatial information ensuring the quality and integrity of data, before approval and issue to prevent inaccurate data being used to make decisions on projects.
Our software – developed for some of the world's largest geospatial databases – automates traditionally labour-intensive, manual data management tasks like validation, integration, cleansing and enrichment.
By turning your firm's expert knowledge into user-managed, repeatable rules, we make it easy to understand and report on the quality of any set of geospatial data – at both geospatial and attribute levels. Our rules-based approach can automatically fix data problems, too; ensuring your project data is always as you expect it to be: authoritative, consistent and accurate.
1 https://assets.publishing.service.gov.uk/government/uploads/system/uploads/attachment_data/file/938539/NIS_Report_Web_Accessible.pdf
Contact Us
For help getting your geospatial data into shape and keeping it that way, please contact us.
Contact Us
Our Solutions
Ecology Services
Our solution gives you the power to instantly verify the quality, completeness, and reliability of your ecological survey data.
Ecology Surveys
Ecology Surveys
Next Generation 911
Our Next-Generation-911 Solution provides validation of network data, address data and the National Emergency Numbers Association ...
Next Generation 911
Next Generation 911