1Spatial And The National Underground Asset Register Project (NUAR) Data collaboration is a hot topic in the GIS industry. With just short of 700 asset owners across a range of data formats, the National Underground Asset Register (NUAR) demonstrates the benefits of how data sharing can unlock benefit and value, whilst also strengthening critical infrastructure.
Engineering and project management consultancy Atkins has been appointed by the Geospatial Commission to deliver the build phase of NUAR, supported by UK mapping agency Ordnance Survey and global leaders in geospatial data management 1Spatial.
1Spatial will be leading the development of the project's multi-year data transformation and data ingestion programme.
Current challenges
Guy Ledger, Digital Director at Atkins, explained why the NUAR is needed: "Approximately four million holes and excavations are dug across the UK. The data relating to underground assets is currently held in lots of different locations, it's very fragmented, and varies significantly in quality and format.
"Every time a hole is dug it carries risk in terms of causing damage or injury and there are 60,000 strikes each year. The estimated cost of those utility strikes is just short of £2.5 billion pounds per year to the UK economy.
View the infographic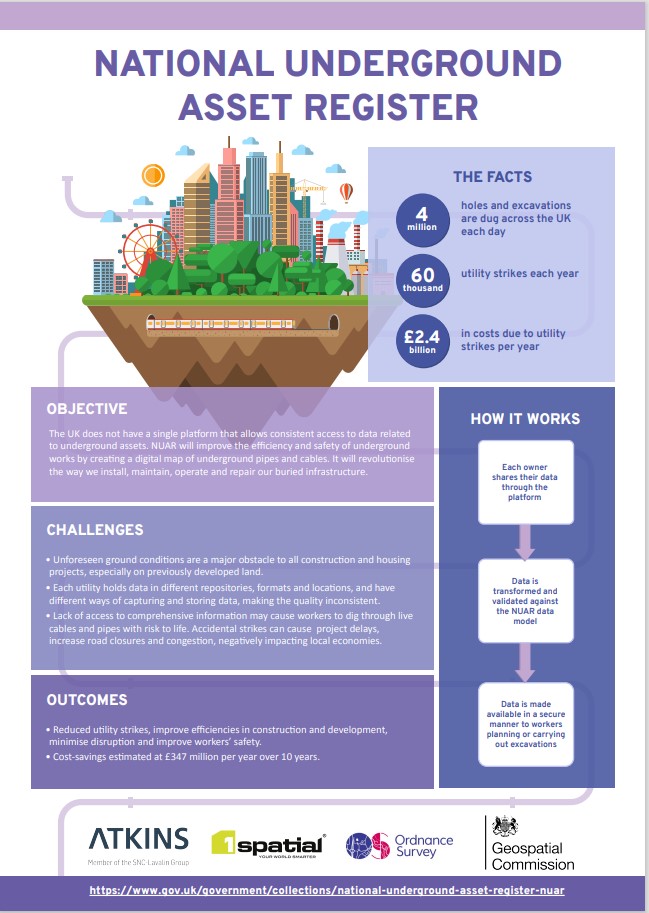 Improved efficiencies, safety and cost-savings
"This project is clearly going to reduce the disruption caused when somebody strikes a high-pressure water or gas main. It's going to improve efficiency, make it faster to procure and access the data, and make it easier for people on-site to understand what they're looking at when they examine the records. All together, these benefits flow through to a monetary value just short of £350 million pounds per year, of which around £240 million can be attributed to the avoidance of utility strikes."
The benefits of NUAR are summarised below:
Reduced utility strikes, supply disruption and waste.
Improved efficiency, safety and productivity of excavations.
Cost-savings estimated at £347 million per year over 10 years.
The first operational version of the platform will be launched in March 2023, covering Northeast England, London and Wales. It will be followed by a rollout for the whole of England and Northern Ireland (Scotland already has a similar platform called VAULT.
Guy Ledger was a speaker at 1Spatial's Smarter Data Smarter World conference, held in London in November 2021. You can find watch the speakers' presentations here.