Working in GIS: Moving from Data to Software Did you know we have multiple open positions in our Engineering teams, and more? Meet Charley Glynn, one of the newest team members at 1Spatial as he reflects on his first two months with us...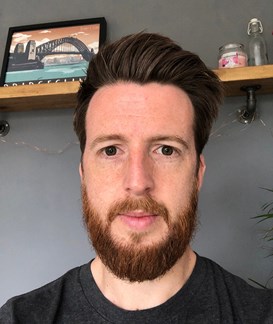 I joined 1Spatial as a Senior Product Manager at the end of March, after 18 years at Ordnance Survey (OS). I spent most of my time there as a Cartographer and in the last few years I moved into Product Management. I was most recently responsible for the suite of location APIs available via the OS Data Hub which are now helping to support critical infrastructure in both the Public and Private sectors.
I have stayed within Geospatial but with a focus on helping people unlock the value of their data through software solutions, rather than being a data provider. Both 1Spatial and OS share a huge passion for data quality, a vast amount of domain expertise, and a belief that data can make the world a better place. This makes our partnership on projects such as NUAR the perfect match.
A strange coincidence that I discovered on my first day at 1Spatial is that I am working with a development team called Team Rocket, as I was at OS – how strange is that?! I'm now convinced that all the best dev teams have this name.
A welcoming and friendly team
From the first day I joined, the whole team have been really welcoming and friendly. There is a fantastic team spirit and collaborative, 1Team culture. The onboarding process was super smooth, and I had an induction with all departments within my first week. The organisation structure is clear, and I am already working closely with colleagues from Marketing, Sales, Support and Consultancy.
Being a global company, I get to hear the views and feedback from users in various regions. As an example, I meet with colleagues from the US every other week and their input to our products is invaluable and enables us to discuss new feature requests with real user needs in mind.
The online training material and documentation has enabled me to quickly gain a deeper knowledge of the products that I am responsible for. Whilst reading case studies and talking to customer-facing teams has given me a good understanding of how the products are used and where they're adding value.
Continual Improvement, Integration, and Innovation
One of the first things I noticed upon joining 1Spatial is the importance of process and documentation. Our technical authors work within the development teams alongside engineers and testers, and the documentation is treated the same as all code, with the same development processes applied to its creation. It is managed in source control with branches and pull requests, and single-sourced to maximise content re-use and minimise the chance of outdated topics being published. Documentation is even subject to our testing and Continuous Integration (CI) processes, as we found out in our latest 1Integrate build in fact, when a new JavaScript addition to the WebHelp failed an automated test!
I have been really impressed by this focus on the importance of documentation – from my background managing APIs I appreciate how critical they can be to the use of a product.
All our procedures are built with the aim of minimising risk, delivering quality, and continually improving our products and services. But that doesn't mean we're constrained by our own processes, they are designed to serve us and are updated as we innovate. This has made our annual ISO 9001 certification process a breeze, and also helps with our global ESG initiatives.
Looking Forward
One of the things I am excited about is the work we have done to set up a user research group. I have been working closely with design and development colleagues to gather real insight from users through a variety of techniques including surveys and user observations. Watching real users (some experienced, some new) get hands on with the product has proven incredibly useful – both for my own understanding, but also to capture valuable insights that are enabling us to improve our products for future releases. This will lead to user experience enhancements that will benefit our user base by providing efficiencies and new and improved functionality.
1Spatial has a great culture and I have found it easy to fit it and am grateful to have the opportunity to continue working from home. I am now looking forward to continuing my learning, meeting more colleagues, more clients and continuing our user discovery. We have some exciting 1Integrate releases coming up this year with lots of great new features that will add immediate value to some key projects.
Open positions
We've got a number of open positions as we continue to grow, take a look and come and work with us!
Open Positions